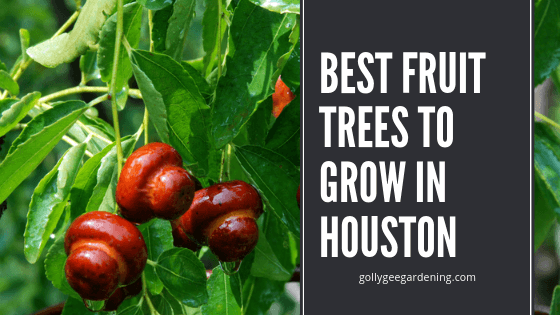 Texas is a warm and humid state. Houston, Texas is located in the southern region of the state, and they are prone to temperatures that reach into the 90s, with humidity levels that get just as high. To grow fruit trees in Houston you will need to select trees that thrive in these conditions.
Growing Apples in Texas
You might think that apples are simply not suitable to the Texas climates because most apples require a long period of cold weather each year. That is true of some apple species, but there are several types of apples that can, and do, thrive under the Texas sun.
When you plant apples pay close attention to what other apple species you must have in order for cross pollination to take place. The following list of apples all do well in south Texas soil.
The Anna
The Fuji
Dorsett Golden
Gala
Granny Smith
Irazu
Mutsu
Growing Pears in Texas
If you grew up in Texas you likely knew about canning pears, and eating pears. Pears grow well in the Texas climates, and the difference between canning pears and eating pears? Well, eating pears are soft and ready to eat when they ripen, but canning pears remain very firm and they are perfect for making pear preserves, pear butter, and fried pear pies!
Growing Citrus in Texas
Citrus fruits like oranges and tangerines can certainly be grown in the Houston area. Satsuma oranges are one of the favorite orange species to be grown in this area. The Meyers lemons are also prevalent around Houston orchards. The climate is right, and you do not have many freezing temperatures to worry about.
Perfect Texas Varieties include:
Navel Orange
The Republic of Texas
Ruby Blood
Peaches
You might think of Georgia when you think of peaches, but southern Texas has climates that are very similar to the ones in Georgia, and the peaches do great in Houston. For the best results try the following peach varieties:
Tropic Snow
The Galaxy
The Ealingrande
The Rio Grande
For more information about Houston, Texas, and all things Texan, please visit https://fixintexas.com
Plums
Plum trees are perfect for Texas soils. You can easily grow these delectable fruits in your back yard. Plums are low in their glycemic count so they are the perfect fruit, they are not too sweet, and they are not too tart.
You will also have success growing Paw-Paw's, Persimmons, Nectarines, Avocados, Figs, and other fruits.